ECO-DESIGN of ENERGY-USING PRODUCTS (EuP)
Eco-Design refers to the philosophy of designing products with the concern of environmental impacts throughout their entire life cycle.
The
EC Directive on the eco-design of Energy-using Products (EuP)
defines the conditions and criteria for setting, through subsequent implementing measures, requirements regarding environmentally relevant product characteristics.
What is Eco-Design?
Eco-design is an approach to design a product with the consideration of the environmental impacts during its whole life cycle. It is also a long-lasting contribution to securing energy supply and achieving sustainable development.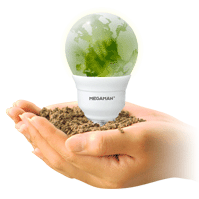 Businesses and consumers will benefit not only from better products and an improved environment, but also economically, because of a more rational use of resources. Evaluation must include the entire product life cycle: from raw material selection and manufacturing process to packaging, transport, and distribution to installation, maintenance and use, and finally to end-of-life which includes recycling, reuse, and final disposal.
Directive on Eco-Design Comes into Force
On July 6, 2005, the European Parliament issued a directive establishing a framework for the setting of eco-design requirements for energy-using products and has just come into force by stages. The initial focus will be on energy-using products (EuP) which have been identified as having high potential for a cost-effective reduction in greenhouse gases. Lighting products including lamps, ballasts, optical systems of luminaires and standby power of control systems is one of the key concerning categories.
Within the lighting category, this directive will be enforced in three stages. The first stage has been in effect since May 2008. This requires the conformity of the requirements of eco-design listed in the Directive for all street lighting products. The second and third stages will be applicable to office and domestic lighting products respectively and will come into effect shortly.
MEGAMAN® in Environmentally Ahead Position
Committed to adopting environmentally friendliness as the prerequisite from the manufacture of the energy saving lamps, MEGAMAN® has commenced preparation with respect to this Directive as when it was released. Different phases in the life cycle of our products have been reviewed and identified to ensure the conformity of the requirements of the eco-design as stated in the EuP Directive.
Komentáře k článku. Co si myslí ostatní?