Geologie Barbadosu
Barbados je korálový ostrov, který byl vyzdvižen z oceánu díky sopečné činnosti.
Jeho povrch je z větší části plochý, ale je také kopcovitý a skalnatý s rozsáhlým systémem podzemních řek, jeskyní a jezer. Na západním pobřeží se táhnou pláže s bílým pískem, jejichž krásu zdůrazňuje zelenomodrá barva Karibiku. Korálové útesy, lemující hranice ostrova, jsou dokonalým místem ke šnorchlování a potápění. Podél divočejšího, východního, pobřeží se neustále zvedá příboj a vlny Atlantiku se díky silnému větru rozráží o kamenité břehy. Při své návštěvě se přesvědčíte, že Barbados je nejen ostrov překrásných pláží, ale také ve vnitrozemí se zvedajících kopců a horských hřbetů. Na severovýchodě je oblast známá jako Scotland District, kde nejvyšší hora Mt Hillaby dosahuje výšky 340 m. Na ostrově je také mnoho jeskyní a podzemních jezer, které jsou zásobárnou pitné vody ostrova, nejznámější jeskyní je Harrison´s Cave.
Právě skutečnost, že je zde tolik zásob podzemní vody, kterou odděluje od povrchu většinou jen velmi tenká vrstva půdy, podporovala v minulosti pěstování cukrové třtiny a i v dnešních dnech je důležitá pro místní zemědělskou produkci. Té postupem času ustoupily původní lesy s mahagonovníky, bílými cedry, palmami, casuarinami a především fíkovníky, které se dnes vyskytují už jen na velice malých plochách. Na Barbadosu je k vidění také množství různobarevných kvetoucích rostlin a veřejnosti jsou přístupné i překrásné zahrady.
Na ostrově žije mimo jiné 8 druhů netopýrů a 3 druhy ještěrek, vzácně jsou k vidění divocí králíci, žáby a mloci. Dále tu žije mnoho druhů želv, v některých oblastech si zvykly na přítomnost lidí natolik, že je možné s nimi plavat podél korálových útesů. Na Barbadosu také existuje projekt, který želvy sleduje a chrání v období hnízdění a kladení vajíček. Na ostrově se vyskytuje přes sto druhů ptáků, většina jsou migrující druhy jako kachny, sokoly, hvozdíci, pěnice a rybáci. Jen asi 20 druhů jsou stálí obyvatelé ostrova, např. holubi, volavky, rajky, kolibříci či stehlíci. Ovšem nejvzácnějším zvířetem, žijícím na Barbadosu, jsou zelené opice. Původně pocházejí ze Senegalu a Gambie a na ostrov se dostaly před více než 350 lety. Dnes jich tu žije 5000-7000 a od těch původních už se samozřejmě vývojem liší, nacházejí se v oblastech, kde je nejvíce původní vegetace a lesů, tj. ve farnostech St. John, St. Joseph, St. Andrew a St. Thomas. Mláďata mají velmi jemnou srst, která postupně zhoustne a má hnědavě-šedý odstín s přídechem žluté a olivově zelené, v určitém světle se zdá barva srsti zelená a odtud také pochází jméno opic.The island of Barbados is approximately 150 km east of the Lesser Antilles magmatic island arc and is the only subaerially exposed pan of the Barbados Ridge accretionary prism. The oldest rocks on Barbados are exposed in the Scotland District as pelagic shales, sandstones, and siltstones' ash layers, chalks, and radiolarites. These rocks are complexly folded and faulted mainly due to Late Tertiary to Quaternary compressional deformation and uplift. Except for the highlands, the deformed Tertiary strata are unconformably overlain by a succession of Pleistocene, tectonically little affected, reef terraces that topographically downstep toward the northern, eastern and southern coastlines almost concentrically becoming younger toward the coastline. The Upper Reef Terrace is older than 600 000 years whereas the youngest reef terrace submerged off the Lower Reef Terrace is of Holocene-Recent age. The terraces formed in response to tectonic uplift and eustatic sea-level fluctuations that resulted in several episodes of relative sea-level drop.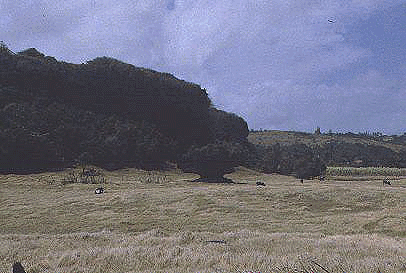 ZDROJ:http://hoopermuseum.earthsci.carleton.ca, www.barbados.cz
Komentáře k článku. Co si myslí ostatní?